Game Wizard(Also called Adventure Time Game Wizard) is a game creator based on Adventure Time(Show).It is a mobile phone app,and costs $4.99(5 US dollars)In the app,players make their own game by drawing the level on special pieces of paper.Scan the papers with your mobile phone,and you can play them in the app.Players can also share their created games in the arcade,along with other player's levels.Another way to make the level is mathematically in the app.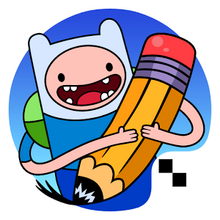 The game also contains the voice of "Weird Al" Yankovic as the voice of the Game Wizard.
It is available for the iPad,iPhone,iPod Touch,Android,and Kindle.
Add Download
Edit
Here is the link to the game on Google Play.
https://play.google.com/store/apps/details?id=com.turner.pixelpressadventuretime
Download Details
Edit
Size: 223M
Requires Android:4.1 and up
References
Edit