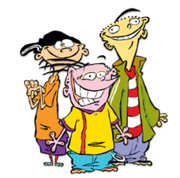 Ed,Edd n Eddy is a Canadian/American animated TV show that priemiered on Cartoon Network on Jan.4th,1999.It was created by Danny Antonucci and produced by a.k.a. Cartoon.The final episode priemiered as a movie called Ed,Edd n Eddy's Big Picture Show in 2009.
Description from WikipediaAll credit goes to them.
It revolves around three adolescent boys, Ed (voiced by Matt Hill), Edd "Double D" (voiced by Samuel Vincent), and Eddy (voiced by Tony Sampson), collectively known as "the Eds", who live in a suburban cul-de-sac. Unofficially led by Eddy, the Eds constantly invent schemes to make money from their peers to purchase their favorite confectionery, jawbreakers. Their plans usually fail though, leaving them in various predicaments.
Reception
Edit
Description from Wikipedia.All credit goes to them.
Ed, Edd n Eddy received generally positive reviews from critics. David Cornelius of DVD Talk considered the Eds to be adolescent equivalents of The Three Stooges, believing that "the series revels in the sort of frantic, often gross humor kids love so much, and there's just enough oddball insanity at play to make adults giggle just as easily."[40] Cornelius also wrote that the "animation is colorful and intentionally bizarre; bold lines forming the characters and backgrounds wiggle and morph in a delirious haze. This is animation that's, well, really animated."[40] Terrence Briggs of Animation World Magazine considered every second of the show "filler" and lamented that the main characters are drawn as "products from the school of acid-trip caricature."[41] After Briggs' review was published, a large number of letters supportive of the show were sent to the magazine, prompting it to "take a second look" at the show. Different reviewers then gave it a positive review, calling it a "fresh show with very different approaches."[7] When Netflix offered several Cartoon Network shows to stream on-demand, James Castle, a columnist for the University of Minnesota's newspaper, The Minnesota Daily, wrote a tongue-in-cheek article suggesting that Ed, Edd n Eddy and the other available shows are of such high quality, that he would be unable to focus on his exams, unless he took a lawsuit against the company to have them removed. In his praise of the shows, he wrote, "We do not contend that any person of ordinary will could, or should, resist such classic and well-crafted animations."
Catbatman (talk) 21:12, March 6, 2014 (UTC)